Purrysburg, South Carolina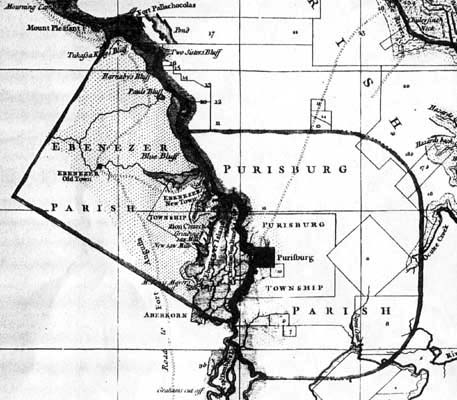 Parish Map 1761-1767 (Map taken from "Georgia Governor and Council Journal" ref: 975.8 N2wmv2)
Across the Savannah River from New Ebenezer, Georgia is Purrysburg, South Carolina. In 1731, the King of England granted land on the Savannah River to Swiss colonizer Jean Pierre Purry. Hundreds of German speaking and French speaking Swiss colonists arrived with the dream of establishing a silk trade in the new colony. But malaria and other hardships proved fatal to the European colonists, and the settlement died a slow death. Other settlers built extensive rice plantations, some of which now form the Savannah River National Wildlife Refuge. Purrysburg lingered on at least until the time of the American Revolution, serving as the first headquarters of the American army under General Benjamin Lincoln. Today, the river landing and the cemetery site are still in use.
John Frederick von Holtzendorff (born 1711 in Germany) settled in Purrysburg in 1736. He was granted 200 acres and a town lot there. In 1739, he was granted 250 acres more. The Census of 1743 shows John F. Holzendorf as a resident of Purrysburg. John is our 6th great-grandfather.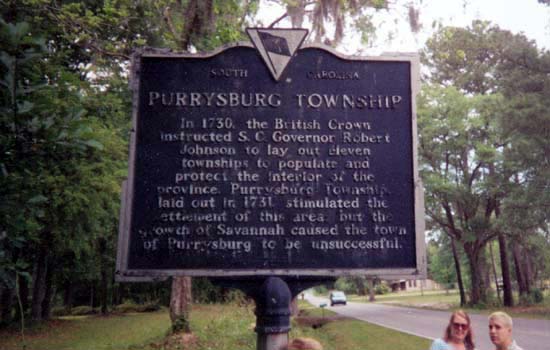 Purrysburg Township - In 1730, the British Crown instructed S. C. Governor Robert Johnson to lay out eleven townships to populate and protect the interior of the province. Purrysburg Township laid out in 1731, stimulated the settlement of the area but the growth of Savannah caused the town of Purrysburg to be unsuccessful.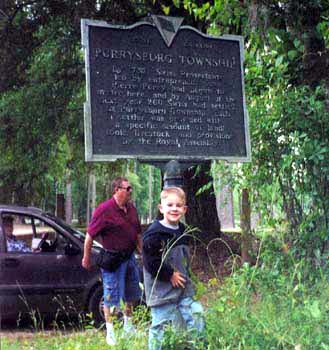 Purrysburg Township - By 1732, Swiss Protestants led by entrepreneur Jean Pierre Purry had begun to arrive here and by August of the next year 260 Swiss had settled at Purrysburg Township. Each settler was provided with a specific amount of land, tools, livestock, and provisions by the Royal Assembly.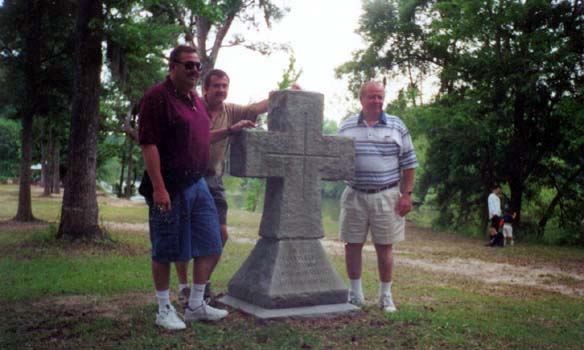 The Purrysburg Memorial Cross
Left to Right: Dave, Lee and Chuck Holtzendorff
The inscriptions read:
THE SITE OF PURRYSBURGH THE SETTLEMENT OF
SWISS AND HUGUENOTS ESTABLISHED HERE IN 1733
ERECTED A.D. 1941 BY THE HUGUENOT SOCIETY OF SOUTH CAROLINA
Return to Top


Web Hosting and Design by Deborah Holtzendorff ©Copyright 2000